"YOU STUPID IDIOT!"
-Gym Coach, while he witness his kart being destroyed-
The gym coach is a character in
Elliot Goes To School
. Like many fictional gym coaches, he was once a general in the army. It is noted that he has a strong Arnold Schwarzenegger-like accent but looks a little bit like Bruce Willis. Also stereotypical of muscleheads is that basic logic presents a multitude of problems for him, and he cannot process it.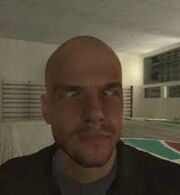 Appearances
Edit
Elliot goes to school 1
Edit
Elliot goes to school:Pep rallies
Edit
Elliot Goes to School:Mondays
Edit
Elliot Goes Camping
Edit
The gym coach made a brief appearance, that he locked the kart alarm, only being crashed by Elliot's grandmama's monster truck. Angry, and says "YEU STOOPID EDIET!" and slaps himself in frustration.